Experiences and Lessons Learned from Two Fit Outs Abroad Part 2
In the previous article (Part 1), we teased you with our experiences of carrying out two fit outs abroad, in Luxembourg and Copenhagen, for our client Banking Circle. We promised a step-by-step account of our experiences, the good, the bad and the ugly. Truthfully, there wasn't much ugly—look at the images!—but there was a lot of work to be done and many bonkers spreadsheets we are secretly proud of. Up in this part, contracts, cash, reluctant landlords and a whole lot of cool!
Contracts, cash and common legal pitfalls
After years of traveling the planet, we've learned that the UK is much more mature than other jurisdictions on issues of procurement and construction contracting. We, therefore, opted to negotiate contracts with Banking Circle based on UK law—defects liability periods, insurance levels, payment terms, dispute resolution and more. Specialist construction lawyers were hired to back-to-back those terms with the appointed architects. At first, the local teams were nervous about using UK contract terms, but compromises have to be made somewhere to avoid stalemates. Our legal team did a great job of getting everyone on board and comfortable with the requirements.
As always, we gave Banking Circle a fixed-price, fixed-program contract like we offer all our clients. This carries massive risks for us on any project, but even more so when you're dealing with international tenders, currency conversions (where a small exchange rate slippage could throw the numbers way out) and a team you have not worked with before! Still, protecting our clients from unexpected costs is incredibly important to us. Those values were not going to change simply because of the project's location and an associated uptick in risk.
Contracts signed, the next step was to get the financial house in order. We were about to pay vast sums of money to the local teams. The payment mechanisms needed to have enough speed of movement that we could adhere to the contract and other crucial deadlines and comply with local tax legislation so we could claim back taxes on behalf of our clients. Local accountants worked their magic, and we were finally ready to go on site.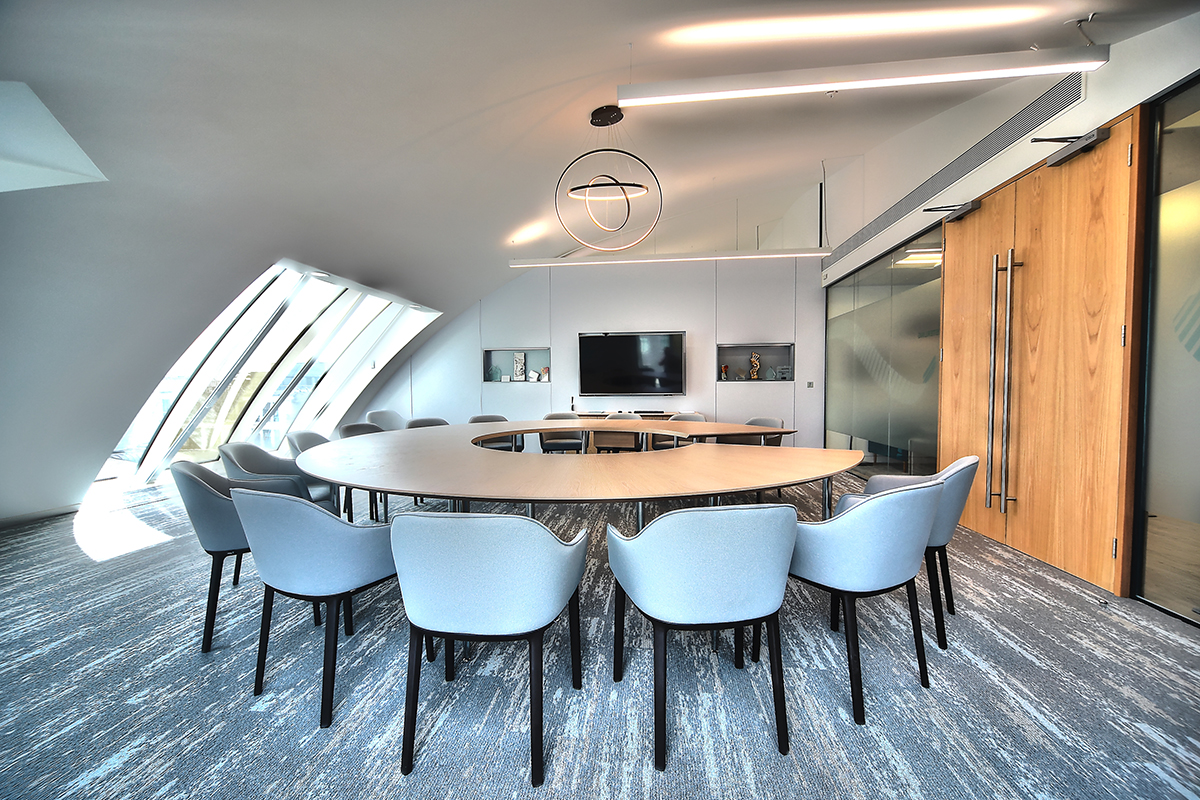 Sweet talking the landlord
Here in the UK, it's standard practice for landlords to carry out Cat A works (the foundational undergarments of your office) and for tenants to carry out Cat B works (the wall and ceiling finishes, boardrooms, office spaces, fitted kitchens and other sparkly bits). Landlords may chuck tenants a wad of cash to carry out the Cat B works, but it's usually the tenant who organises their own the interior fit out.
This is not the case in other countries. In Denmark for instance, it's common for landlords to control everything, wrapping Cat A and Cat B works into one big package and charging for all the works through the rent. Unsurprisingly, our European landlords were nervous about relinquishing control of the fit out to the tenant's team. We spent a lot of time with them on site, explaining the process and working very hard to make them comfortable with this unfamiliar way of working.
Luxembourg had additional problems as the fit out was slippery from an engineering perspective. The building was old and there was a limit on what its systems were able to cope with. Fundamentally, we were trying to put a new engine into an old car, and we had to strip the office right back to concrete and pull off some technical magic tricks to ensure that our client's new systems were able to talk to the landlord's old systems and perform for our clients over the long term. We were lucky to have a sympathetic and collaborative landlord who loved the solutions we were proposing.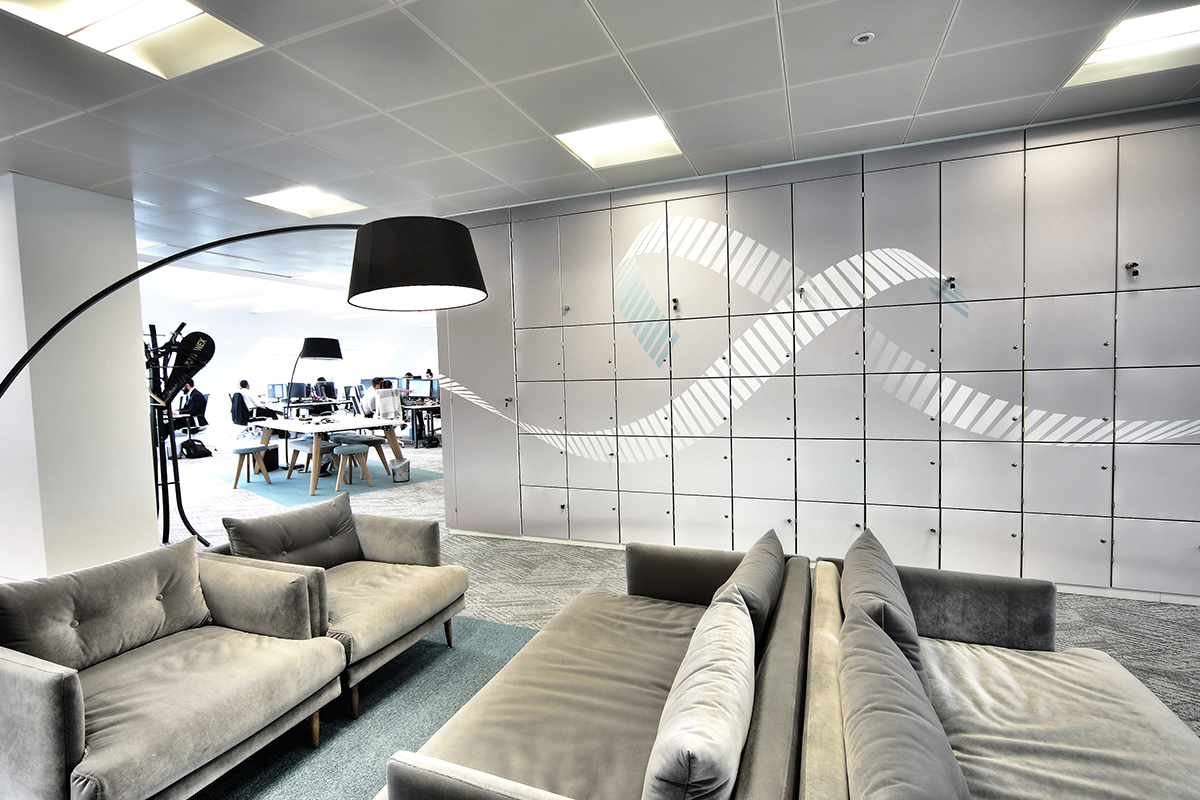 How cool is our day job?
Thanks in part to a 6,000 line item spreadsheet (really!) with mind-boggling levels of complexity, both projects proceeded on time, on budget and without a hitch—despite the fact that the entire country of Luxembourg shuts down for three weeks over the summer! The client was delighted with the results. And just as important, so were we.
Yes, there were 5am starts. There were early morning flights, late evening flights, endless meetings, airport delays, traffic, experience variances, cultural differences and bone-deep weariness from all the travel. But despite all of that, we had to keep pinching ourselves because who else gets to achieve something amazing in not one but two iconic cities? How cool is our day job?
Ironically, Banking Circle has now expanded to capacity in London and is looking to scale up again next year. That's another job for us with these wonderful clients! And the client is looking to expand further in Madrid, Milan and Berlin, depending on the economies of those markets. If you're interested in our experiences abroad, then watch this space—2020 could be a big year for CCWS.
For now, we're sipping a G&T and reflecting on the lessons learned from these two amazing fit outs. Having broached this issue with Banking Circle, it's clear that businesses are crying out for vital assistance in bringing their global brand alive through one, consistent office fit out team—a safe pair of hands in any territory. We hope we've shown that's us, and you don't need to look any further for your international fit out.
As much as we love our trusted UK-based team, we knew it would be a hiding to nothing to ship them out and use them abroad. You really need someone with local knowledge of building codes and suppliers to manage the work in the host country, and a team on hand to manage snagging and defects quickly so the client is not left hanging. So, our first priority was to get some boots on the ground in Denmark and Luxembourg.